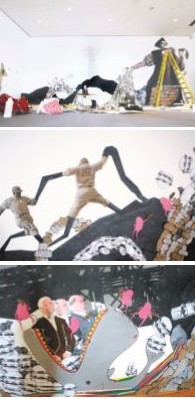 While processing the archival materials of the curatorial department of the Weisman Art Museum, I came across an article from MN Daily called Imaginative Immersion: Three Days, Five Artists, which was about an atypical exhibit at the Weisman Art Museum in February of 2008. These five artists were part of a group independent study with UMN's art department inspired by Paul Shambroom's exhibit at WAM the previous spring titled Picturing Power. The independent course culminated in "a semi-impromptu mural" titled Mutiny. The students–Andy Brinkman, Brett Gustafson, Miles Mendenhall, Rhett Roberts and Travis Hetman–formed the group known as Monster Island. Over the course of three(ish) days, Monster Island installed Mutiny in the Shepherd Room of the Weisman Art Museum.
Monster Island

mon·ster is·land
-noun

Multi-headed art beast originating from Minneapolis, MN. Known to eat art.
Geographical location designed specifically for the containment of gigantic creatures.
To exhibit in a museum is a truly amazing opportunity for students. The only caveat to this opportunity: they could leave no mark or trace on the walls of this room. Instead the students used large sheets of paper "(sketched, painted and chalked) and a whole lot of blue masking tape." 
"In their five-day project, Monster Island sought to address this relationship between public and private space, and the power between and throughout those spaces, not only through the final piece, but also through the interactive experience of construction. While the process unfurled as a sea of paper, paint and chalk onto the carpeted floor of the Shepherd Room, the guys encouraged museum-goers to enter, examine and discuss."
MN Daily reporters followed the mural project's installation, evolution and soundtrack from beginning to the opening celebration on Feb 24, 2008. The article mentions a timelapse of the installation that I'd love to see someday.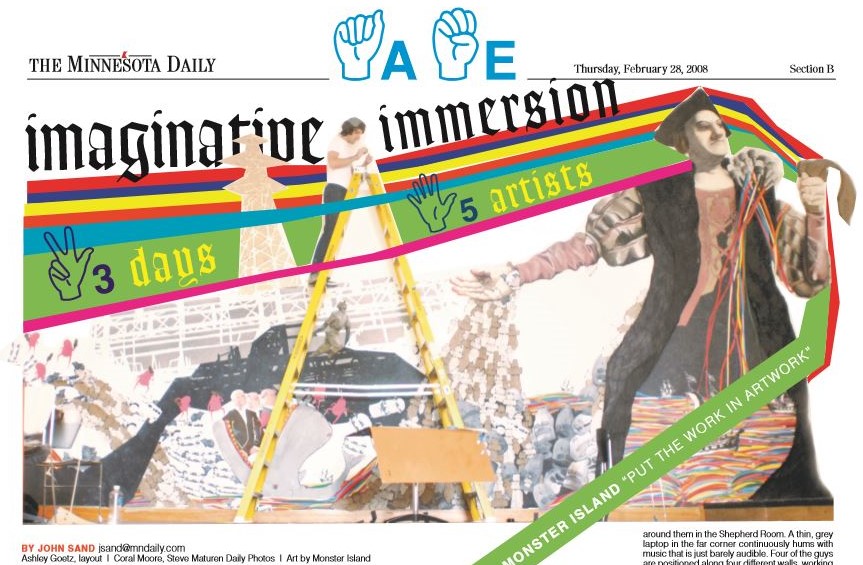 For more, click on the images below or contact nationalsales@mndaily.com for the more information or a copy of the article.
—Heather Carroll is the processing archivist for the Weisman Art Museum's collection at the University of Minnesota Archives. This project was made possible by funds provided by the State of Minnesota from the Arts and Cultural Heritage Fund through the Minnesota Historical Society.