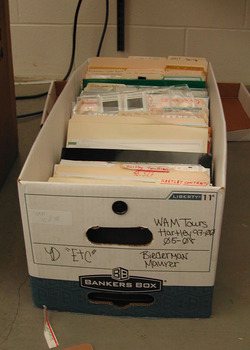 Three months after the WAM Files project staff agreed to continue processing an additional accession of 38 boxes of records transferred from WAM to the Archives, and a mere 12 days after we all celebrated the start of a new year, this project processor finds herself preparing for an end – of the physical processing of the WAM collection material. This week, I reached the final… last… single… box of the archival collection.
However, the end of physical processing by no means signifies the end of the WAM Files. After the last folder is removed from this long Bankers Box and is marked with a #4 (collection number) and the year of the folder's content, is placed into its eternal location in a Paige archival quality box, and is documented in an 8,000 + row spreadsheet, there is still more work to be done…
Here is a preview:
1. Finding Aid -We need to compose a historical note, scope, and content, so curious researchers can easily access our collection and the treasure trove of information contained within.
2. MORE Blog Posts – Did you really think that we shared everything that we came upon? Surely we saved some very juicy records for ourselves that we have yet to share…
3. Exhibit -The WAM Files – "in the flesh"? To our surprise and delight, WAM Exhibition staff scheduled an exhibit that will feature items from the archival collection that document the history of the museum. Coming to a WAM gallery near you in Summer 2012…