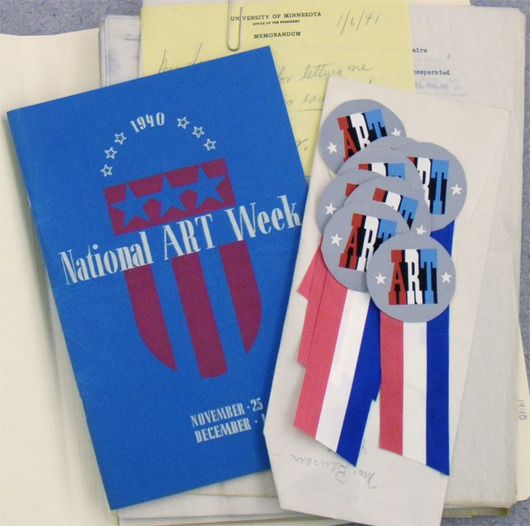 National Art Week was a nation-wide festival of arts held in late November of 1940, with the aim of encouraging Americans to buy American art. In Minnesota, numerous organizations held events, including the Walker Art Center, the Minneapolis Institute of Art, and the (then quite small) University Gallery. In fact, Ruth Lawrence, the Gallery's director, served as Chairman of the Minnesota State Council for Art Week. I discovered an envelope full of patriotic "ART" ribbons still in pristine shape in the files, which were doubtless used to promoet the events. A booklet from Chicago about Art Week gave some more information, with an introduction by Daniel Catton Rich, Director of Fine Arts at The Art Institute of Chicago. He describes Art Week:
Doubtless you have often thought, "Wouldn't I like to own a picture or a print or a piece of sculpture or a distinguished piece of craft-work." Here is your chance. Throughout the city there will be exhibitions, visits to galleries and studios, art festivals, balls and demonstrations, all with one idea: to help you select what you desire at prices ranging from $1.00 to $100.00.

When this week is over countless American homes will be brighter and more interesting because art has come in the front door. And remember in enriching your life you are helping your neighbor, the American artist.
He closes with the fairly blunt: "Celebrate National Art Week. Enjoy its stimulating program. And don't forget to BUY."